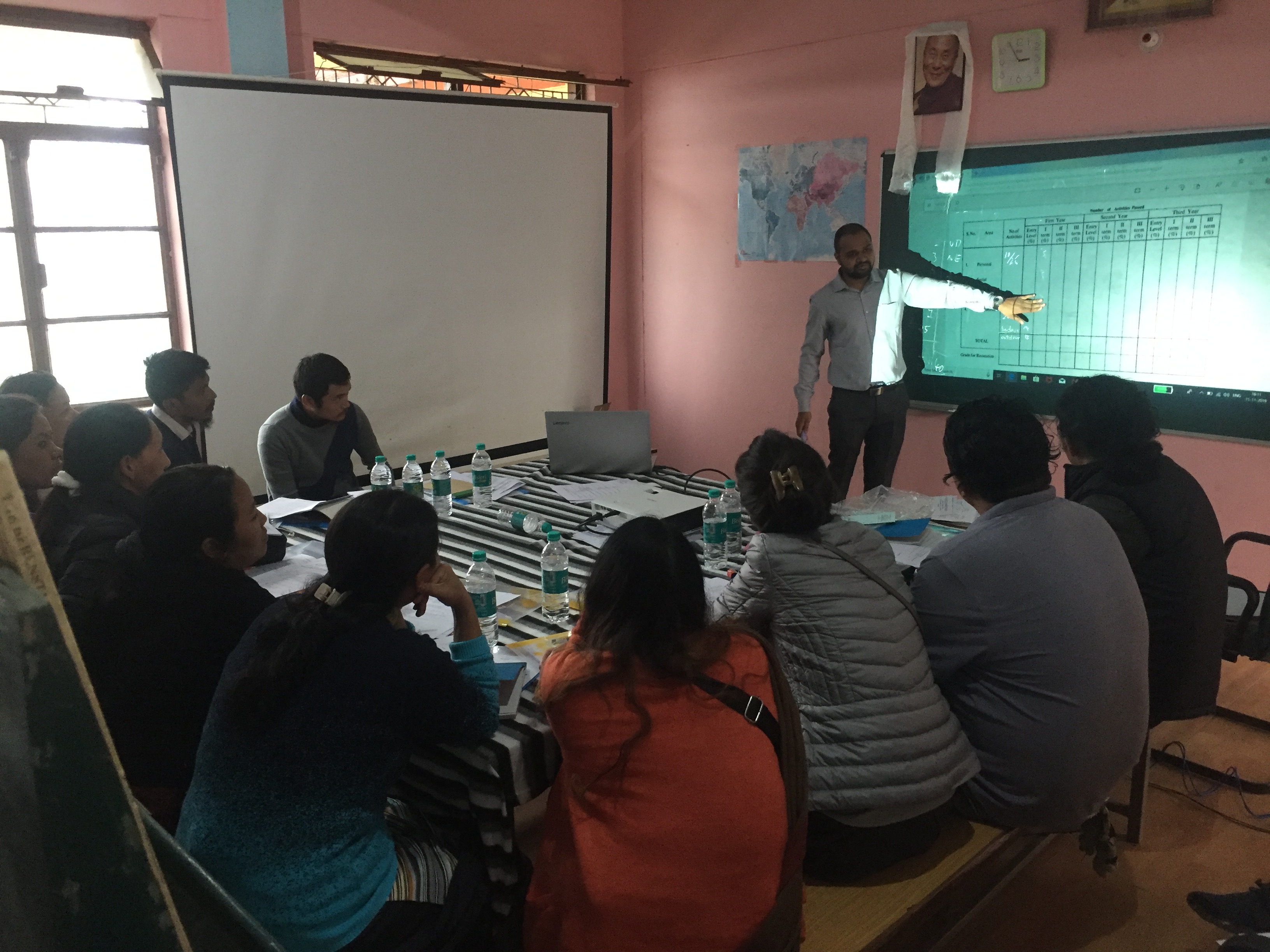 The Department of Education (DoE), Central Tibetan Administration (CTA) conducted workshop for training on Assessment and Individual Educational Plan (IEP) for Ngoenga school teachers & foster parents.It was held at Ngoenga School, Dehradun from November 11-16, 2019. It was funded by US donor PRM. The resource persons in the workshop were chaired by key resource person Mr. Suraj Singh, Assistant Professor of SARS, accompanied by DoE special educator Ms. Tenzin Paldon .
The full one week workshop training was given for educating eleven Ngoenga teachers & twelve foster parents on the management of disability of children. The main objective of the workshop is how we can take care of disabled children using the best techniques. It also included to educate them well in school and to take care of them during their stay at their respective homes/hostels.
Mr. Suraj has said that keeping the progressive report and hard copy record of each special child is important and necessary to track the progress of each child. He further added, the responsibility of Foster parents is to take care of general 'Personal & Recreational' things of the child. On the other hand, whereas that of the teachers' is how to teach the children well in their classes using the best teaching methods of daily child's 'assessment & the IEP'. During the workshop Ngoenga teachers, foster parents and staff shared their ideas & experiences while working in the Ngoenga School.
Special lunch was served to all Ngoenga staff members during the period of workshop at School Dining Hall. This is for the first time such effective workshop was conducted by the DoE, CTA to help and nourish the Ngoenga Children in a much better way.
A tea party was organized on the closing ceremony of the workshop with Chief Guest being the Settlement Officer of Dehradun Tibetan Settlement Mr. Norbu la along with Ngoenga School Director Mr. Pemba Labrang. Everyone felt great about the new learning experience and welcomed more educational workshop in near future. The Chief Guest, Mr. Norbu la highly appreciated this new initiative organized by the DoE, CTA. The Ngoenga Director also appreciated the workshop hopeful that it will bring change in school for the better. After the participation in workshop, the Ngoenga school teachers, foster parents and staff felt a great sense of learning and are highly motivated to work harder in taking care of Ngoenga Children in the days to come.
Overall, the workshop was really inspiring and helpful in training the Ngoenga teachers & foster parents.