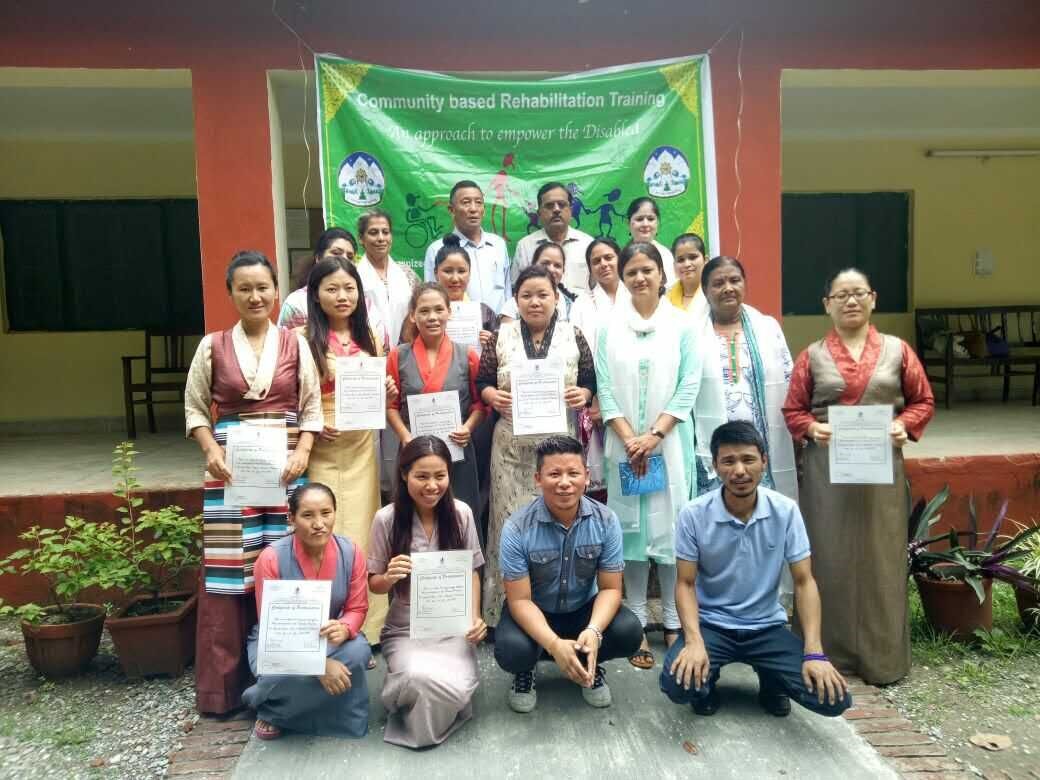 Department of Health organized a ten day training on Community Based Rehabilitation for nurses and staff on 19th – 29th July 2017 at Raphael, Dehradun. Total 12 participants attended the training and participants are from Ngoenga School and Primary Health center from Northern area. Following topics were taught including field visit and practical therapy were covered during the training.
CONTENTS of 1st WEEK: –
Introduction & Discussion on perspective towards people with disabilities.
Definition of Disability, classification and types.
Causes, prevention
Cerebral Palsy-Causes, Problems & Management
Mental retardation/ Autism
Multiple Disability
Management and leadership in CBR
Stroke – Causes, Problem & Management
Amputation – Level, Problem & Management
Spinal cord injury – Level, problems & management
Spina bifida – Causes, Types, Problems & Management
CBR Field Visit for CP assessment & management
CONTENTS of 2nd WEEK: –
Management and Leadership in CBR
Learning Disability
Needs and Benefits of Wheel Chair
Needs and Benefits of Orthosis & Prosthesis
Club foot – Causes, Types, Problems and Management
Barrier free environment
Teaching Strategies
IEP ( Individualize Education Program )
ADL, Assistive Devices
CBR Field Visit Field visit for ADL assessment and intervention plan on assistive devices.
Lesson Planning for Distributed Class
Practically Teaching towards Disable
Counselling/Way to Communicate in Society COURSE OBJECTIVES:-

At the end of ten days training program, the participants will be able to:-

Develop positive attitude towards people with disabilities in the society and promote inclusive development.
Describe the types and causes of different disabilities with emphasis on prevention of disabilities.
Identify people with disabilities, carry out basic functional assessments and provide simple therapeutic interventions with involvement of family members/care givers.
Describe the need and benefits of Orthosis, Prosthesis and other assistive devices for functional independence of person with disability.
Provide information about services available within the community, and linking people with disabilities and their families with these services via referral and follow up.
Describe the common issues of the older people in the community and the need of assistive devices for their well-being.
Advocating for barrier free environment and inclusion of people with disabilities by making contact with health centres, schools and workplaces.
Programme ended with discussion with team and Brainstorming followed by Certificate distribution.
 OUTCOMES:
Total Twelve participants from Dharamsala-H.P, and Uttarkhand attended the training programme.
Participants were oriented on disability based on International Classification of functioning (ICF), their causes, prevention and different types.
Participants gained knowledge on common disabling conditions like Cerebral Palsy, Autism, Club foot, Amputation etc.
Participants gained knowledge on basic need assessment, early interventions and inclusive education.
Participants learnt and practised on basic therapy techniques.
Participants got exposure to community field visit to carry out assessment and early interventions for children/persons with disabilities and the Outreach Program.
Participants learned Child Developmental Milestone and Early Intervention.
Overall feedback from participants:
We have received a genuine positive feedback from all the Participants reported that through this training they gained additional experience, knowledge that was conclusively demonstrated at the workshop and information about common disabling conditions as well as basic therapy interventions. They also reported about the teaching methodologies like group activities, lesson plan for group teaching during practical sessions of therapy techniques and field visits with practical exposure of service users. Many participants suggested that the duration of training was short. Overall participants mentioned that "it was a great opportunity and conclusive training for them that they will definitely express the subject and ideas that they learned throughout this training to the Children/People with disability in their place. They also suggest to arrange such CBR training in future.